Cascos is one of the longest-serving lift manufacturers to the automotive industry in the world
Here you will find an overview of the Cascos vehicle lift range, consisting of 2 Post, 4 Post and various styles of Scissor lifts. Manufactured in Spain since 1965, our lifts have remained largely unchanged, except to evolve with the cars they are required to lift. We are at the forefront of continuing innovation within the industry - our high quality and durable car lifts are created through a combination of well engineered design and a thorough testing process.
Trusted manufacturers of premium UK brands
Cascos' manufacturing policies, traditional build quality, and dedication towards reliability have simply never changed. And neither has its impeccable customer service to ensure you have the right car lift for your garage services. If you want to find out more information on a specific vehicle lift type or require more assistant into which lift is the right fit for you, please call our team on 01480 8-9-10-11.
Why Cascos? Find out more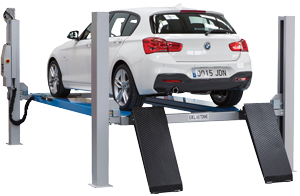 See our range of Cascos vehicle lifts below...
About Cascos Lifts
Cascos Maquinaria (Machinery) started manufacturing lifts in Spain 55 years ago. Based in Vitoria, Northern Spain, the business is still operated by the Cascos family with the same passion and pride that the business was established upon way back in 1965.
Apart from sourcing lifting columns from Germany, the majority of components are manufactured in-house; even hydraulic cylinders - something you will never see as you walk around the factory of other lift manufacturers.

In a nutshell, Cascos is unique. Nowhere else in Europe will you find a lift factory that puts the focus on quality so far ahead of the focus on price. In the UK. Cascos Lifts are distributed by Hofmann Megaplan, the UK's premier provider of tyre changers, wheel balancers and associated equipment. With factory trained engineers, local stock and an approach to business that echoes that of the Cascos family, it is the prefect partnership.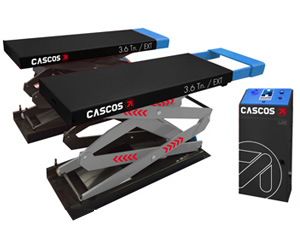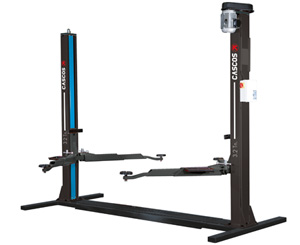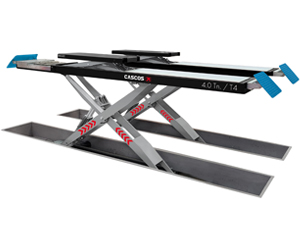 The philosophy of Cascos is very much about tradition, and the only changes that the company and its have been subjected to have only been instigated if it is believed to be progress, and not something to cut costs and therefore quality. For example, the principle for the electro-mechanical single and 2 post lift range is largely unchanged from the original lift all those years ago. The only changes that have been made have been evolutionary modifications to coincide with the vehicles they are being asked to work with. In addition, the temptation to outsource components to lower priced suppliers such as those in China has been avoided, in favour of maintaining the continuity of quality control and therefore long-term reliability.

A Brief History of Cascos Lifts
1965 – Carlos Alvarez-Cascos used the contacts and knowledge he had gained working at the Volkswagen factory in Germany and Mercedes-Benz factory in Spain to start selling, amongst other products, a range of in-ground lifts for trucks
1968 – The first 1500m2 of office and production facilities were established to develop the first series of 2 post lifts and tyre changers, which were predominantly destined for the German market. It was this early partnership and experience with the German market that led to Cascos' affinity with traditional build quality and design associated with German-made lifts
1970 – Started manufacturing the first mobile lifts, known as MONZA 1980 – Started designing and manufacturing lubrication equipment
1985 – Launched the first models of 4 Post lift
1988 – Launched the first Parallelogram lifts
1989 – Expanded the production facility with an additional 4000m2
1990 – Launched the first range of Parking lifts
1996 – Launched the first range of full-height scissor lifts
1999 – Awarded ISO 9001 for design and manufacturing of lifts
2001 – Expanded into new facilities with more than 6500m2
2002 – Launched the first range of wheel alignment scissor lifts
2003 – Attained certifications from Renault, Peugeot, Citroen and Nissan
2004 – Received largest order in Cascos history, for 560 4 Post Lifts fitted with play detectors for Japanese equivalent of MOT
2011 – Received award for aftersales from Spanish magazine 'Our Workshops'