Hofmann Megaplan Blog
Welcome to the Hofmann Megaplan blog. Check back regularly for news, product launches and events.
Chris Jones Joins The Hofmann Megaplan Team!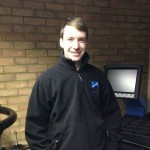 We are pleased to announce the addition of Chris Jones to the Hofmann Megaplan team.
Chris joins in the role of Wheel Alignment Specialist, although he will also take control of our increasing routine calibration and service programme for certain key customers.
Since the introduction of our ecoline 58 Computerised Aligner, our alignment business has grown dramatically. The UK launch of the new 'megaline Ssence' later this year  is set to strengthen our alignment business even further, and Chris's undoubted experience in this field, along with his Midlands location, will give us the resources to ensure we continue to offer the demonstration and aftersales support customers have come to expect from Hofmann Megaplan.
Additionally, Chris will handle the routine service and calibration programmes, covering alignment, balancer, changer and torque wrenches, for some key customers who now rely on us for 6 monthly or annual contracts.
This appointment is the latest in a steady expansion of our internal and external teams. In October, Jason Styles came aboard as a treinee Service Engineer. Then in December, Jan Rivett joined as Warehouse and PDI Manager. January saw us strenghten our internal service organisation with the addition of Sean Blomley as Trainee Service Co-ordinator.
Additional, auxillary equipment added to our range has determined that, if we are to maintain our reputation for exceptional service, then we need to ensure we have the resources to support it, and we see these appointments as crucial to ensuring we handle products such as alignment and nitrogen inflation in the same way people have come to expect for our tyre changers and balancers.
Chris will work alongside our existing Alignment Specialist, Iain Harpin, and between them we can provide dedicated, highly competent back-up for our products and customers.
I wish Chris the best of luck, and feel sure he will soon become another 'megabloke' among the UK's leading name in Wheel Service Equipment... :)
James
Related Posts
By accepting you will be accessing a service provided by a third-party external to https://www.hofmann-megaplan.co.uk/