Hofmann Megaplan Blog
Welcome to the Hofmann Megaplan blog. Check back regularly for news, product launches and events.
Hofmann Megaplan - A Love Story!!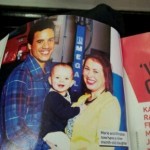 My Wife was having her hair done the other day, and whilst browsing through 'More' Magazine, she came accross a story of love at first sight, supported by the attached picture, which clearly shows a column from one of our megalift 3200 (Cascos C2.32) 2 post lifts!!
She immediately took a pic and sent it to me; we've seen our machines on TV before in garages and motoring programmes, but we've never found our way into a Womens glossy!
The story, which was entitled 'Love At First Sight', was, according to my wife, all about the man and woman in the picture meeting and falling in love with each other. However I think she may have got that wrong.
Judging by the fact our lift is so prominent in the pic, I am pretty certain the story was really about how the couple fell in love with our  2 post lift!
Well, so many others have... :-)
James
Related Posts
By accepting you will be accessing a service provided by a third-party external to https://www.hofmann-megaplan.co.uk/