Hofmann Megaplan Blog
Welcome to the Hofmann Megaplan blog. Check back regularly for news, product launches and events.
Hofmann Megaplan Launch Apprenticeship Scheme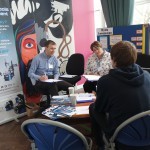 There is no doubt about it, the technicians at Hofmann Megaplan are amongst the best in the industry - but we need more!
Finding new recruits who can demonstrate the passion and commitment to our brand and philosophy has proven difficult, as those coming from competitors or other sectors within garage equipment often have their own set ways and opinions.
So we made the decision at the beginning of the year that we would take the longer term approach and train up individuals who were totally 'green' and can be moulded into our way of doing business.
We have teamed up with our local technical college to source a number of students each year who can learn the ropes in what is a buoyant and consistent trade, with the opportunity to pursue a very rewarding career working for a solid, reputable company with a reputation for valuing their employees.
"Hofmann Megaplan has grown into a significant business within the garage equipment industry", commented the company's Business Analyst and Special Projects Manager, Andy Hawes. "Yet there is still the overwhelming feeling of a family business, and the team spirit is admirable and essential to the success we continue to enjoy. The goal is now to find new people out there who can help maintain that atmosphere whilst helping the company progress and expand in line with the ever-increasing level of business".
The attached picture shows Andy representing the company at a recent Open Day at Huntingdonshire Regional College, where students were able to learn about the company and the opportunities available.
Related Posts
By accepting you will be accessing a service provided by a third-party external to https://www.hofmann-megaplan.co.uk/