Hofmann Megaplan Blog
Welcome to the Hofmann Megaplan blog. Check back regularly for news, product launches and events.
Hofmann Megaplan Supply AA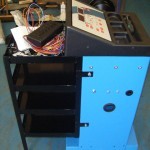 Work is underway to custom-fit 44 Transit Vans for the AA, the supply contract being awarded to Hofmann Megaplan and Reading Pneumatic Services following an extensive trial of 6 vans fitted out last year.
The contract, which includes megamount 301 Racing tyre changers and megaspin 100-2 wheel balancers, involves a complete customisation of the vehicles in order to maximise on avaliable space.
The AA have launched a 'Service Assist' programme which gives consumers the option of having routine servicing, including fitting tyres.
The megamount 301R and megaspin 100 package have firmly established themselves as the UK's first choice mobile tyre changer and balancer for fitting into a vehicle, and the recent replacement of the balancer with the 100-2 model has ensured thet we remain at the forefront of technology.
Related Posts
By accepting you will be accessing a service provided by a third-party external to https://www.hofmann-megaplan.co.uk/