Hofmann Megaplan Blog
Welcome to the Hofmann Megaplan blog. Check back regularly for news, product launches and events.
Micheldever And Hofmann Megaplan - Official Partners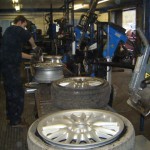 Following a meeting today with Micheldever Group Ltd I am pleased to say that we are now the official equipment supplier to the group, which includes the nationwide Pro-Tyre retail sites, the world famous site at Micheldever Station and the wholesale division. I took a quick pic of our machines in use the in the 'flowline' and had a chat with the lads who are delighted with their machines. Next up is the launch of a new model, specifically designed for this particular bay, which we have now put into production and will offer exclusively through Micheldever wholesale....watch this space...PS, I owe a big thank you to Karl Sayles of KSS for assisting us with the development of that model!
Related Posts
By accepting you will be accessing a service provided by a third-party external to https://www.hofmann-megaplan.co.uk/