Hofmann Megaplan Blog
Welcome to the Hofmann Megaplan blog. Check back regularly for news, product launches and events.
New Single Phase 2-Speed Option on Hofmann Megaplan Tyre Changers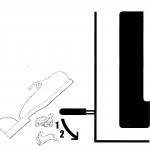 Traditionally, a 2-speed option has always been limited to 3 phase models of tyre changer only. However, Hofmann Megaplan have recently introduced an ingenious new design that allows customers limited to single phase power supply to enjoy the benefits of 2 speed operation.
This new feature, available as an option on all tyre changers in the Hofmann Megaplan 'megamount' range, is controlled at the pedal, so as the pedal is depressed the speed increases from the standard 7rpm through to 14rpm in a smooth transition.
The system was introduced last year for a particular customer with multiple sites doing high volumes, so the concept is proven to be reliable and effective.
The addition of 2 speed to single phase models accompanies another innovation, the 'Power Out' facility, which has been added to megamount 702's as  standard. The 'Power Out' automatically pushes the bead breaker arm out after the bead breaking operation, eliminating the problem of the blade getting stuck between the rim and tyre, and enabling the operator to use two hands to hold the wheel.
Related Posts
By accepting you will be accessing a service provided by a third-party external to https://www.hofmann-megaplan.co.uk/