Hofmann Megaplan Blog
Welcome to the Hofmann Megaplan blog. Check back regularly for news, product launches and events.
Roles for Experienced & Junior Garage Equipment Engineers in Peterborough!
We're looking for someone based in the Peterborough (Ramsey Forty-Foot ) area.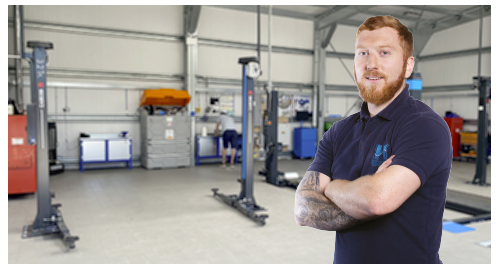 Hofmann Megaplan is pleased to share several new opportunities to join our extremely well-organised and reputable business, as accredited by the Garage Equipment Association.
What we're after:
We're looking for both Experienced & Junior Installation Engineers to join our fast-growing team, as operations continue to ramp up at a fast pace following the expansion of our National Distribution Centre (NDC).
This role will involve working closely with the team at our NDC to organise the collection of garage equipment, including our range of vehicle lifting equipment. From there you will be out on-site, working with customers to ensure slick installations. Some cross over into maintenance may be required.
Interested?
You can view both the roles in full by using the below links. We look forward to receiving your application.
VIEW EXPERIENCED INSTALLATION ENGINEER ROLE VIEW JUNIOR INSTALLATION ENGINEER ROLE
Alternatively, you can send your CV & covering note to This email address is being protected from spambots. You need JavaScript enabled to view it..
Related Posts
{ "@context": "http://schema.org", "mainEntityOfPage": "https://www.hofmann-megaplan.co.uk/blog/roles-for-garage-equipment-engineers-in-peterborough", "@type": ["BlogPosting", "Organization"], "name": "Hofmann Megaplan", "headline": "Roles for Experienced & Junior Garage Equipment Engineers in Peterborough!", "image": "https://www.hofmann-megaplan.co.uk/images/luke-lifts-2.png", "editor": "Guest", "genre": "Garage Equipment", "wordcount": "244", "publisher": { "@type": "Organization", "name": "Hofmann Megaplan", "logo": {"@type":"ImageObject","url":"https:\/\/www.hofmann-megaplan.co.uk\/media\/com_easyblog\/images\/schema\/logo.png","width":60,"height":60} }, "datePublished": "2020-06-19", "dateCreated": "2020-06-19", "dateModified": "2020-06-19", "description": "Hofmann Megaplan suppliers of premium tyre changers, wheel balancers, wheel aligners, lifts and garage equipment", "articleBody": "<p class="p1"><span class="s1"><i>We're looking for someone based in the Peterborough (Ramsey Forty-Foot ) area.</i></span></p> <p><img src="images/luke-lifts-2.png" alt="luke lifts 2" style="float: left;" /></p> <p><strong>Hofmann Megaplan is pleased to share several new opportunities to join our e<span class="s1">xtremely well-organised and reputable business, as accredited by the Garage Equipment Association.</span></strong></p> <h2 class="p1"><span class="s1"><strong>What we're after:</strong></span></h2> <p class="p1"><span class="s1">We're looking for both Experienced &amp; Junior Installation Engineers to join our fast-growing team, as operations continue to ramp up at a fast pace following the expansion of our National Distribution Centre (NDC).&nbsp;</span></p> <p class="p1"><span class="s1">This role will involve working closely with the team at our NDC to organise the collection of garage equipment, including our range of vehicle lifting equipment.&nbsp;</span><span class="s1">From there you will be out on-site, working with customers to ensure slick installations. Some cross over into maintenance may be required.</span></p> <h2>Interested?&nbsp;</h2> <p><strong>You can view both the roles in full by using the below links. We look forward to receiving your application.&nbsp;</strong></p> <p><a href="https://www.facebook.com/job_opening/755637241883846/" target="_blank" class="button primary" rel="noopener">VIEW EXPERIENCED INSTALLATION ENGINEER ROLE</a>&nbsp;<a href="https://www.facebook.com/job_opening/607471866531305/" target="_blank" class="button primary" rel="noopener">VIEW JUNIOR INSTALLATION ENGINEER ROLE</a></p> <p>&nbsp;Alternatively, you can send your CV &amp; covering note to <a href="mailto:
This email address is being protected from spambots. You need JavaScript enabled to view it.
">
This email address is being protected from spambots. You need JavaScript enabled to view it.
</a>.&nbsp;</p>", "author": { "@type": "Person", "name": "Guest", "image": "https://www.hofmann-megaplan.co.uk/components/com_easyblog/assets/images/default_blogger.png" } }
By accepting you will be accessing a service provided by a third-party external to https://www.hofmann-megaplan.co.uk/