Hofmann Megaplan Blog
Welcome to the Hofmann Megaplan blog. Check back regularly for news, product launches and events.
You may have heard a lot of people talking about "old" and "new" gas in the world of vehicle Air Conditioning and wonder what it's all about? Well, firstly, there is no need to panic.
R134a, referred to as the old gas, will not be phased out. It will, however, be regulated and taxed heavily. Newer vehicles are being fitted with Air Conditioning Systems that operate using a new gas known as R1234yf.
Environmental Impact


​The change is environmentally driven. More precisely, it is to do with the length of time refrigerants can remain in the upper atmosphere. R134a can take up to 10 years to breakdown into a non-greenhouse gas. About 25 years ago this was considered a vast improvement on R12 which had some 100 years plus life span before it broke down. R1234yf is another step forward in protecting our environment, taking between only three and four years to break down in the upper atmosphere.
You have Time
​Relax! Now is the perfect time to train, tool up and offer vehicle air conditioning services using responsible air conditioning tools and systems. R1234yf has only recently been introduced, so there is plenty of time to understand the processes for dealing with the new gas. Currently, around 80% of vehicles will still be on R134a.
With the quick breakdown of R1234yf comes the need to purchase an up to date machine to recover and recycle the new refrigerant. You will also need to understand the new oil compatibility issues with R1234yf and what happens when refrigerants mix.
The performance of R1234yf is very similar to R134a. There will be no major changes to system components. There will however be to the H-block, hoses and the programming in the module that controls the HVAC system.
Your New Air Con Refrigerant
​Current prices for the new refrigerant are high, at around double the cost of the old R134a. It's expected that this price will come down significantly in the next few years as production plants around the world ramp up output.
If you are looking to be ready and supply the R1234yf gases, why not look at the two most popular air conditioning units Hofmann Megaplan sell, the Megacool Fast 222YF and the Ermes YF.
Both machines are fully automatic with large 12KG tank capacities. They are suitable for all workshop applications. Please give us a call on 01213 516 329 if you require more information or contact us now on This email address is being protected from spambots. You need JavaScript enabled to view it..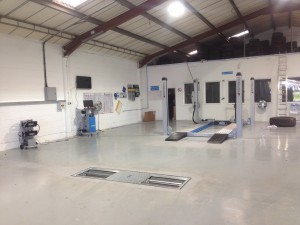 Renowned for our quality wheel and Tyre products, Hofmann Megaplan needs little introduction to the local garage. We've supplied a range of feature-filled machines for the automotive workshop for many years, making car maintenance effortless for the technician and consistently great for the customer. But its not just our products that have given us the reputation we hold today - it's the great, approachable people we have working for us that really makes the difference.
It's with great pleasure...
We can now officially tell you that the number of excellent people working at Hofmann has increased further still, with the acquisition on Scorpion Garage equipment in Birmingham. They bring with them a real wealth of experience in providing first class MOT / ATL bays, from start to finish.

Our experienced specialists will work with you during the project planning, execution and post-installation phases to deliver a reliable test lane which generates consistent results and dependable income.
Equipment
When it comes to the equipment we use in our MOT / ATL set ups, we have selected the machines representative of our high quality approach. All of them have a proven history for longevity and precise results thanks to established manufacturing and careful eye for detail. From Brake testers to ATL lifts, to headlamp and emissions testers we can now cover every aspect for a VOSA approved test lane.
From concept to reality, Hofmann Megaplan supports you through each stage of the ATL/MOT process.
If you're looking to set up an MOT / ATL test lane you should call our MOT division and let us talk you through the process, in our simple, yet efficient style, we're known for.

To request a call back from the Hofmann Megaplan MOT/ATL team click here or call us on 0121 351 6329.
Brochure download - Alternatively download a PDF of our new brochure HERE
Not just MOT bays
We can now offer air conditioning servicing on a range of old and new machines including: Bosch, Boston, Biessbarth, CTR, Crypton, Ecotechnics, Kendon, Sun Kool Kare, Tecalemit, Tronic, Autoclimate CoolTech, Robinair, Protech KK1 KK2, Air Solutions, Texa Konfort Autocraft Smart Charge, Dunlop, Bradbury. ... Plus we now also have the qualified staff to provide F-Gas training