Hofmann Megaplan Blog
Welcome to the Hofmann Megaplan blog. Check back regularly for news, product launches and events.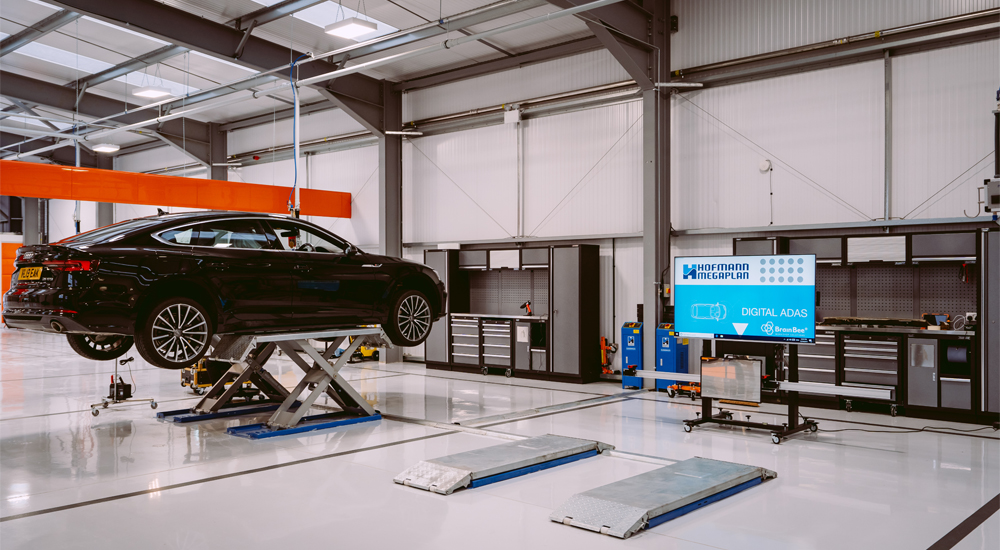 2020 is set to see no slowdown in the talk around Advanced Driver Assistance Systems (ADAS) as garage owners are wising up to the idea of investing in ADAS calibration equipment.
A steep learning curve is ahead for mechanics yet to grasp the ins & outs of ADAS, but digital ADAS equipment is making this far less daunting.
As a garage owner, keeping up with the development of ADAS equipment and the best way to perform ADAS diagnostics can be very difficult – however 2019 has seen many ADAS specific open days popping up, with a chance to get hands on.
For many this is a chance to get excited about ADAS calibrations as an opportunity instead of a threat.
Buy a service, not a product!
If you don't know what your ADAS equipment is capable of, how can you offer these services to your customers?
ADAS Calibration Equipment is a large but worthwhile investment. Being aware of what your calibration equipment can do is essential to offering this new to many service. You need to be able to justify the additional price you are charging your customer.
Your team also need to understand how ADAS calibrations tie together with the other work they complete and get to grips with performing calibrations efficiently & accurately.
That's why demo's & installations are often more essential that owning the equipment. You need a supplier who will not only help you invest in the ADAS equipment but understand how to best utilise it moving forward.
Many are choosing Hofmann Megaplan for just this reason! While we are able to supply the two familiar solution on the market, it is what comes around the physical product that makes us stand out.
From your first enquiry through to each calibration, our service team & ADAS Engineers are on hand to answer your questions, showcase the options available to you, advise, install, train & trouble shoot to ensure your investment isn't a headache.
Our team have been manufacturer trained and have already completed numerous successful ADAS installs across the UK - so for more advice on these expert systems, contact us online today or call us on 01480 8-9-10-11 to discuss in more detail.
​Demand for a smarter solution to ADAS calibrations is rife. The industry has been screaming out for something simpler that manual boards that cost in both space and money.
In the latest instalment of our specialist ADAS training this week, we were happy to see some new and existing clients back to inspect ouradvanced ADAS calibration equipment –even in the dreadful November weather!
The experts at Hofmann Megaplan delivered open format demos and were on hand throughout to offer their expertise and advice to those serious about a better solution to ADAS.
Experiencing live demonstrations and having the ability to question our experts on ADAS calibration equipment has been proving extremely valuable to our customers who have gone on to purchase.
Guests took advantage of the resources available & really challenged our team on ADAS systems. They also had the opportunity to discover much more in our state-of-the-art showroom.
ADAS headache or opportunity
​As one of the biggest talking points in 2019, ADAS has stirred up many into conversation, posing a completely new challenge to the industry.
These advanced vehicle calibrations have a reputation for their complexities, but new technologies on show at our educational day busted this.
Specialist training on these systems can help to make garage owners and mechanics lives much easier.
Industry leading garage equipment suppliers, Hofmann Megaplan, are proud to take the lead and guide industry professionals, by producing informative open days and training resources.
Complex made simple!
​The initial expense that must be outlaid for ADAS calibration equipment cam discourage garage owners, however we've already seen the returns proven in those early adopters of the advanced ADAS system.
For those who joined us this week, they have learnt how our specifically designed digital ADAS solution has been produced to be the most cost and labour efficient product in the UK, and how ADAS will change the outlook of vehicle calibrations in the years to come.
Providing an easy and automatic set-up, jobs can be completed much quicker and simpler than with manual boards, by one man only and while offering a more precise service.
The totally digital solution to this high tech calibration also brags a 65" TV monitor display,meaning no purchasing costly boards and having to arrange them yourself.Our system gives you the right screen for the right vehicle & even adjusts to the vehicles position in front of it!
To all of you who visited us at our showroom, thank you for braving the weather and joining us for the latest instalment of our specialist training!
Don't know where to start with ADAS calibration equipment?